Women's Leather Jackets have always been a style staple for a casual yet fashionable look, however with the popularity of Women Bomber Jackets, ladies tend to elevate their look and polish their personality in a more chic way. An unlimited combination of looks is available with these jackets which hardly need any effort from your side and still look trendy. 
Leather bomber jackets re-emerged into the fashion industry as a quiet achiever due to their timeless style, versatility, and unlimited designs. They have quickly become a style staple for women and can be found in every woman's wardrobe. With equal glamour and edginess, the bomber jacket is a comfortable and convenient choice of outerwear, especially for transitional seasons. They are a perfect choice if you need to layer up for winters. All in all, there's no way you cannot like a bomber jacket.
But for some ladies, it may get confusing on how to style them, what to wear on top, and how to match the bottom? But rest assured, we are here to simplify bomber jacket outfit ideas for you so that you can flaunt your bombers in the trendiest way.
What is a Bomber Jacket?
Bomber jackets were originally introduced during World War I when the demand for warm jackets increased due to most airplanes not having an enclosed cockpit. The bomber jacket, at first, was especially for the military and was established as a part of uniform wear by the U.S Army, however, it quickly became popular in the wardrobes of civilians. Nowadays, it's an androgynous piece of outerwear that is loved by both men and women alike.  
How to Style Your Bomber Jacket
Styling a bomber is a fairly easy task because of its versatility and its ability to work with any clothing from your wardrobe. We will be showing you how to mix up your style with these bombers, and the best part? Everything you need for this is already in your wardrobe. So without further ado, let's get styling.
Keep it Simple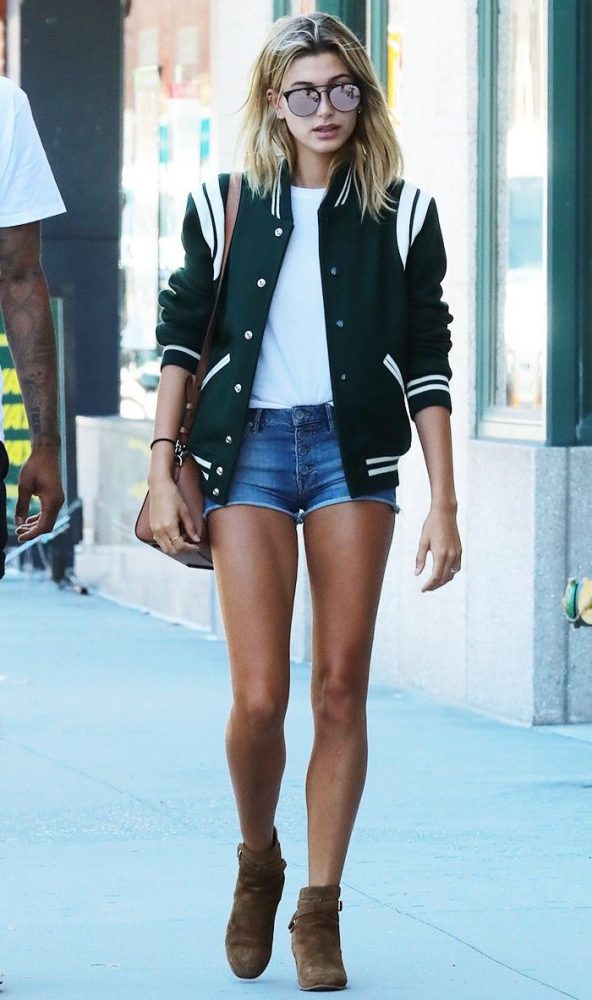 What better way to style a bomber than going casual? Traditionally bomber jackets are used for casual wear, however, going casual does not mean you aren't allowed to look sophisticated and elegant. Pair your favorite ripped denim jeans with a neutral-colored tee and slide on an insulated parka on top for a casual yet stunning look. You can also opt for denim shorts if the weather calls for it. To further elevate this look, add on a few pieces of jewelry and a pair of canvas shoes. And there you have it, a look that elevates your personality and individuality.
Dress it Up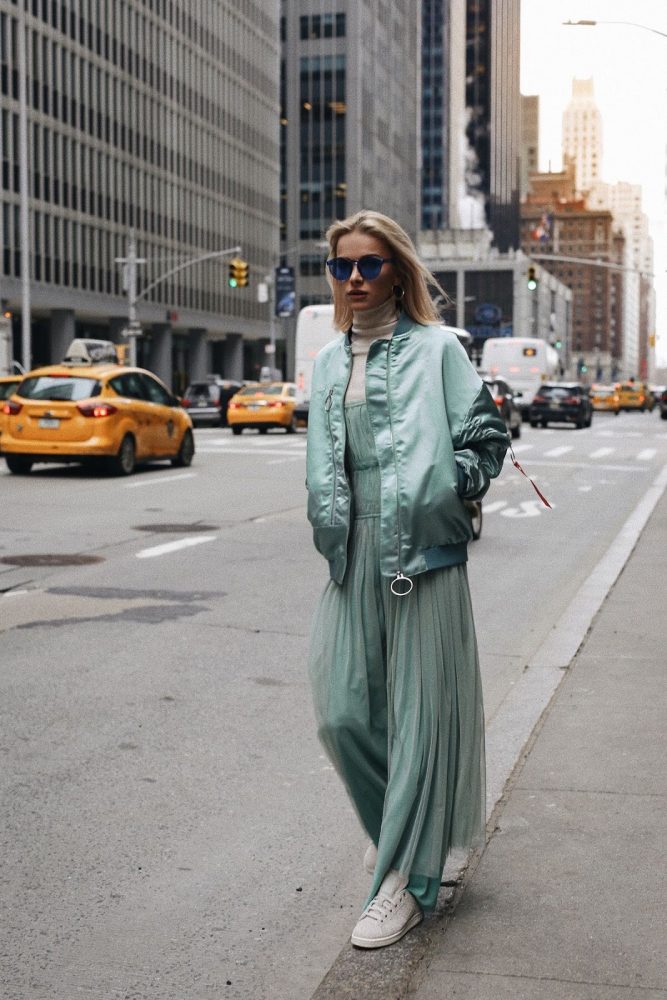 There is a lot of misconception about wearing jackets on a dress and as a result, a lot of females avoid wearing this combination. But trust us when we say, a bomber on a dress is the most stunning combo. To add a bit of feminine touch to your look, you can pair your bomber up with a dress. You can either match the colors of your dress and your bomber or you can go for a neutral-colored bomber with a bright and bold dress. For the latter combination make sure to match the color of your jacket with your shoes so that the highlight is on your vibrant dress.
The Girly Look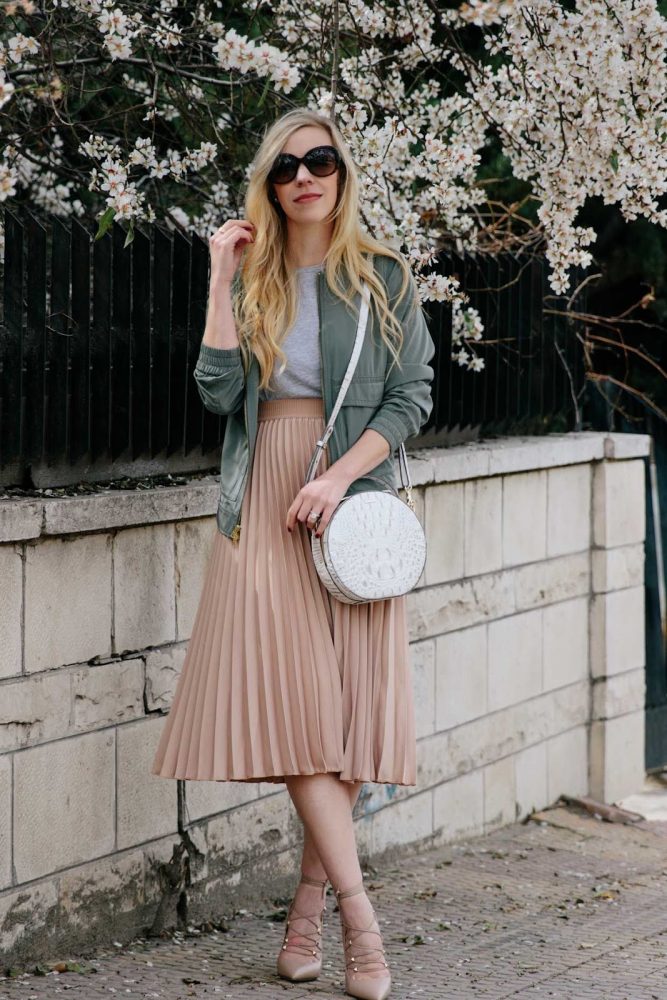 For a date night ensemble, ladies can also pair their bomber jackets with a skirt, be it long or short. Skirts have been a style staple for females for the longest time and the best thing about them is undeniably their versatility. Anything paired with a skirt looks stunning. Pair an embroidered top with a midi skirt and slip on an embroidered bomber jacket on top. To further polish the look, slide on your strappy heels along with a clutch bag and you're ready for your date night.
The Tough Look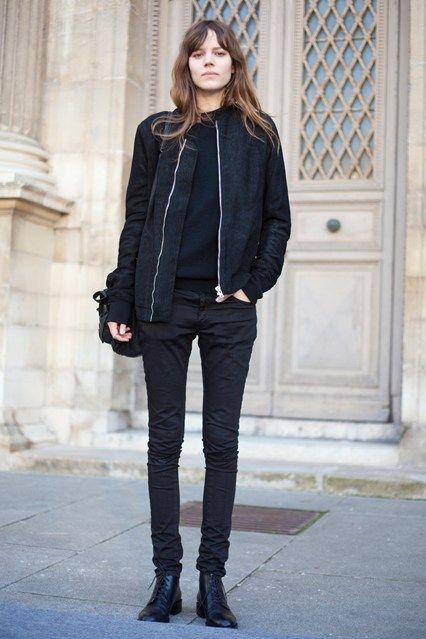 An all-black outfit can never go wrong, especially if you incorporate a black leather bomber on top. For the days when you don't feel like putting too much effort into your outfit but still want to look fashionable, this look is perfect. Pair your black ripped jeans with a black tee and finish the look off with a black bomber jacket. To further elevate your look slide on a pair of black Chelsea boots. This look also asserts dominance and will tell everyone that you're here to take charge for the day.  
Comfy and Cozy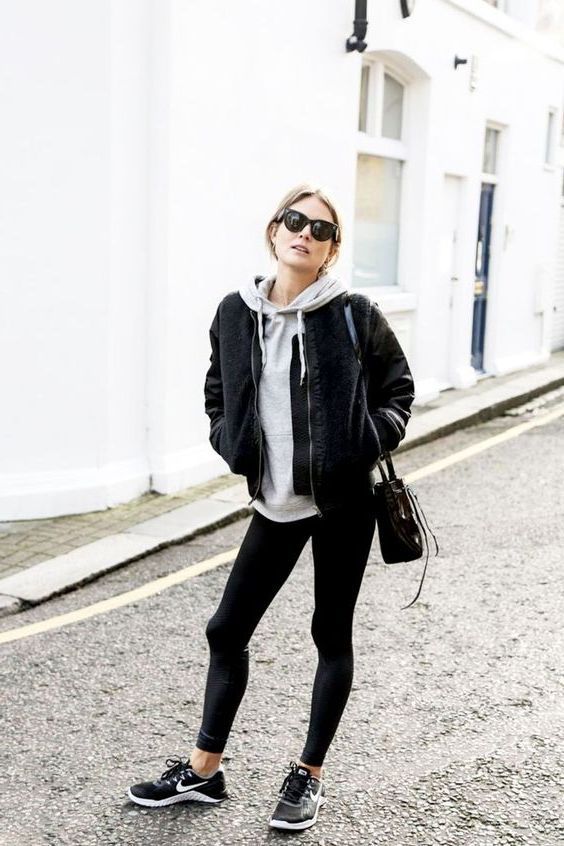 Bombers paired with sweatshirts or even hoodies are the epitome of comfort. It is the perfect remedy for a fashionable yet comfortable ensemble. You can even add in a pair of sweatpants and there you have it, a comfortable look for running errands or emergency grocery shopping. The key here is to match the color of your jacket to the color of your shoes.
Go Unconventional
Getting tired of the same, repetitive outfits every day? Want to switch up your style? Go unconventional with a leather-on-leather combination. It may seem unusual and a bit too much at first, but trust us when we say that confidence is the key. If you have the right amount of confidence, there is no ensemble in this universe that you can't flaunt. 
Leather jackets and leather pants, as two separate entities, are a staple in every female's wardrobe. They are extremely popular because of their popularity and their ability to go with any item of clothing without compromising their individuality. If you want to assert dominance and control with your clothes, this fierce yet fashionable combination is perfect for you.
To Conclude
Women's bomber jackets have been around for a long time and continue to exist as a wardrobe essential due to their versatility and durability. When it comes to styling these jackets, go for an outfit that best reflects your personality. Going for the norm is okay but if you have the choice to go crazy and sport bright and bold looks, then go for it. Look out for more ways to style your bomber in a way that looks different every time.