Are you searching for the most comfortable shoes to wear every day? You can stay here for a while as this blog is intended to give you bright ideas on different types of comfortable footwear for women. Say goodbye to tired and unrest feet, blisters, and wounds caused by your shoes; it's time to give your footwear a complete makeover.
It's essential to find the perfect shoes depending on your activities and occasions. The list below will give you a diverse choice of comfortable footwear your happy feet will thank you for.
Check the following types of comfy footwear:
Sneakers
Originally intended for comfort and ease of movement during athletic activities, women's sneakers have become one of the top picks among casual close-toed shoes. And even better is it goes fashionably matched with any kind of outfits you're sporting. Whether you're wearing a dress or jeans, sneakers look great in them. Because of the athletic look getting famous among women of all ages, sporty sneakers or chic ones are widely offered by many shoe brands in the market. 
Trainers
Training shoes are athletic shoes designed to provide protection, balance, and support during various physical activities. These are also athletic shoes known to ease foot pain and injuries while doing exercises and sports. Although trainers are usually compared with sneakers, they're more built for sports and exercising. You can wear trainers if you want to go for a run, participate in aerobics, play sports, or train in the gym. Nevertheless, these shoes are comfortable to wear all day long.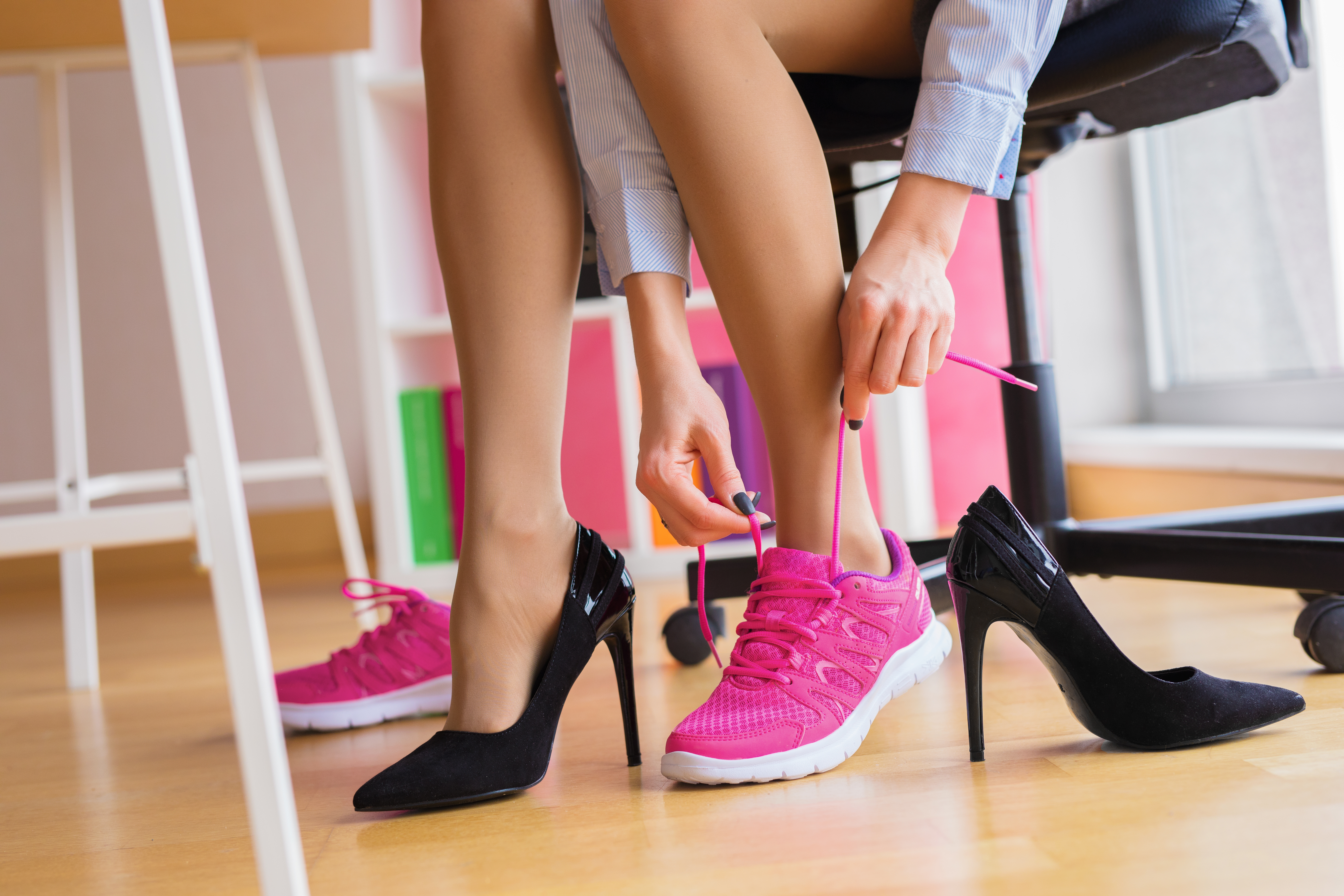 Ballet Pumps
Ballet pumps are the perfect everyday shoe for casual wear. Imagine running errands all day with your stilettos and going back home with many blisters and wounds. You won't be getting any of these when wearing these ballet flats. The flat shoe shape of ballet pumps makes them ideal footwear for women who want to wear them anywhere.
You can easily match them with any outfit since they come in various colors, patterns, textures, and styles. You can even wear it as your office shoes because it looks excellent on corporate attires and workwear. 
Strapped Flats
Knowing which shoes match which occasion is kind of tricky, but strapped sandals are versatile. Whether it's single or double strapped sandals, this kind of style has witnessed many decades in the fashion industry. This has been a staple style that most women never fail to adore. It's flexible and comfortable to wear for any occasion. A broad horizontal cross-strap appears on both sides of the foot for women. This is a slip-on type, which is hassle-free to wear and easy to remove. 
Cork Sole Sandals
These cork sole sandals have earned the hearts of many women because of their cushioned sole feature. These comfortable sandals with soft footbeds are consistently superior to their prices and will look just as cool after many wears. It's perfect to be worn in the summer season while doing a lot of outdoor activities. No matter what foot type you have, these sandals will flatter your feet and make them extra comfy. 
Ankle Boots
In addition to elevating an outfit and making it more polished, ankle boots are a fashionable alternative to heels. Women choose ankle boots because of their stylish, professional look for all occasions. Instead of going for high-heeled shoes to elevate your look, ankle boots won't fail to replace their function.
As expected, ankle boots are only tall enough to cover your ankles. When a boot's shaft is more elevated, it rises higher on the ankle. The traditional ankle boots come in black, and having this staple piece in your shoe collection is a must. You'll be surprised at how many outfits and looks it can help you come up with.
Canvas Shoes
Canvas shoes are a slightly sportier look than ballerinas, but they offer the same level of comfort. They look great in almost anything, giving you that overall sporty look and vibe.
With canvas shoes, you can simply toss in a basic tee and denim jeans, and you're looking fabulous as ever. Also, canvas shoes offer different designs and colors that are perfect to be worn outdoor on a summer, spring, or autumn day.
Oxford Shoes
An Oxford shoe is a closed-laced gown shoe. Many women patronize these classically designed shoes over the years. You can see a lot of fashion blogs sporting a dress paired with Oxford shoes. Although they come in different high-quality material types, the most common one is to have them in patent leather.
Conclusion
There you have it. This is a compilation of the comfiest footwear you can use anytime and anywhere. Invest in these staple pieces and expect to have happy and well-rested feet at all times.