T-shirts are staple outfit pieces for all genders, races, and ages. Although it's more casual than formal, anyone can pull off that chic and dapper look even while wearing a simple plain or basic graphic tee. No matter the season, be it winter, spring, summer or fall, t-shirts are must-have garments that will help you diversify your fashion options.
What makes t-shirts an everyday favorite for many is that they're very comfortable to wear. There's no doubt how easily you can move around when wearing a t-shirt. With the right skills and some ideas to dress up in T-shirts, you can show up at work, on a date or at any event with this ordinary yet potentially fashionable garment.
The key is to apply unique ways to make your t-shirt stand out all year round.
1. Create A Crop-Top T-Shirt
One sexy way to wear a shirt is to create a crop-top version. If you want to customise your way and own an original shirt, you can have it custom-printed by a reliable t-shirt printing Sydney vendor. Find your unique design or print, and make it a crop top. With a measuring tape, note down the right upper body length. You can choose to have it right above your belly button or just below your rib cage.
There's a resurgence of cropped graphic t-shirts, and they're perfect for the summer season. You can pair it up with some high-waisted boyfriend jeans and wear a jacket or cardigan if you're out for the night. Don't forget to slip into some beautiful pair of boots to finish the look.
2. Wear With A Blazer
Shirts can turn into more formal wear simply with the help of a blazer. You can go to work wearing a T-shirt underneath your work jacket, and you'll still look great. Combining everything and letting the colour palette find its rhythm is critical. Pair your shirt with khaki pants or chinos, and dress it up with a good pair of shoes. There are some style ideas on how to come up with office outfits using an oversized blazer.
Aside from pairing your blazer with dress pants, another way is to wear a matching coordinate. This can be a tandem of blazer and shorts or skirt, which have the same fabric material and colour. This is the chicest way to pull off the entire ensemble. 
During winter, instead of a blazer, you can wear a fur coat over your T-shirt and jeans combination. This goes well with flat shoes, heels or sneakers.
3. Pair With A Skirt
Another feminine way to pull off wearing a shirt any time of the year is by pairing it with a skirt. This can be a maxi, midi or a pencil-cut skirt. A loose t-shirt can be paired with a fitted skirt, and a fitted shirt can look great with any skirt. The outfit is a fail-proof way of making you feel elegant, comfortable and feminine.
As for footwear, you can either wear flats, boots, or strapped sandals with it. The skirt helps elevate your T-shirt with this look, so don't be afraid to wear unique, colourful skirts. As long as you've got the color combination on point, everything's good. In spring, you'll do well with florals and pastels, much like the changing seasons. You can still bring a cardigan or jacket as the temperature can still fluctuate.
4. Add A Layer Of Button-Down Shirt Over Your T-Shirt
You probably have seen this outfit being rocked by both men and women. It's great to be worn all year round. Find a button-down shirt with long sleeves and wear a T-shirt underneath it. This elevates your simple look and makes you look beautiful instantly. Men love this look, too, as it's laidback and allows you to move comfortably while looking cool and modern.
To achieve the best result for this outfit, tuck in your white shirt, slip on some denim fitted jeans, choose a button-down long-sleeved shirt, and wear white sneakers. This look is a dress-down outfit idea that's very easy to prepare. For a fall look, use dark colours that go with the cool weather.
5. Tuck T-Shirt In With Your Shorts Or Jeans
Summer outfits consist of shorts and a t-shirt for the warmer months. Many people love wearing t-shirts alone during summer, especially with thin or cotton fabric. The fabric material plays a big part when choosing what t-shirt is appropriate for the season.
The best way to rock a printed or plain T-shirt is to tuck it in with your bottoms. You have the option to wear a belt to add more flair to your outfit. The shirt can be tucked into denim, trousers, jeans or shorts, or a skirt. You can play with colours and make sure that they look great with your bottoms. You can finish off the look with some flats, sneakers, or sandals as footwear.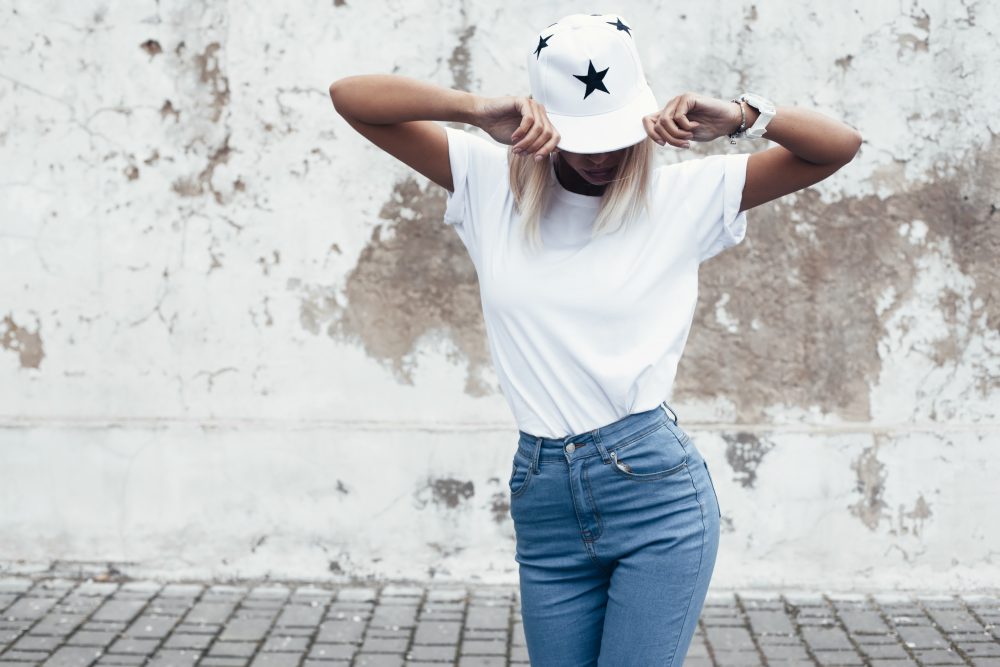 Conclusion
There are many ways to style your graphic tees, and it's all a matter of using your creativity and fashion sense. With the suggestions above, you'll definitely have fun coming up with diverse t-shirt outfit inspirations for all seasons in a year. The key is to coordinate them with the right colours and fabric materials, and don't forget to add the right accessories and footwear.