Looking for the right bra is like searching for a car. It can be quite a chore but is satisfying once you find the right one. Today, there's a new trend in women's fashion called bralette. It's a type of bra but has a lighter feel when worn because it has no wire and less to no lining.
Women now seem to be into wearing bralettes because they're known to be comfortable when worn. They come in different styles, colors, and sizes, just like a typical bra. To find and shop for the perfect fitting bralette for you, check out these tips.
Choose A Design That Matches Your Style
Think about your outfit. Where would you wear a bralette and in what style would you want it to be? It would be best if you shopped for a bralette that suits your style and needs. You can get a simple one to match your daily white shirt and denim shorts. For a date night, you can wear one of the luxury bralettes made by Natori and other brands to complement your formal wear.
In choosing the design, make sure to consider your existing wardrobe. That way, you'll have an idea of what clothes you would wear with a bralette. Remember, bralettes aren't like your typical bras, which are usually worn and hidden under your clothes. Bralettes are typically shown off, which could make the wearer look sexy and more confident.
Get Your Body Measurement
Don't forget to measure your body. Buying a bralette is a good idea as long as it fits you perfectly. So grab your pen, paper, and measuring tape and follow this step-by-step guide on how to measure your bust size:
Band measurement: Place the measuring tape across your back, going under each of your arms. Make sure the tape is flat across the back to get an accurate size. Just above your bust, that would be your band size. If you get an odd number, round it down to the nearest even number. For example, if your size is 37, round it down to 36.
Bust measurement: Measure across the fullest area of your bust. Keep the measuring tape parallel to the ground to get a perfect size. If the result you get is 1.5 inches or greater, round it off to the next whole number. So if you've measured 35.5 inches, round it up to 36 inches.
Bralette sizes are usually available in 32, 34, 36, and 38. That's why you need to round the measurement down to an even number. And as your size can change every six months or so, make sure to remeasure to be able to wear only comfortable and perfect fitting bralettes.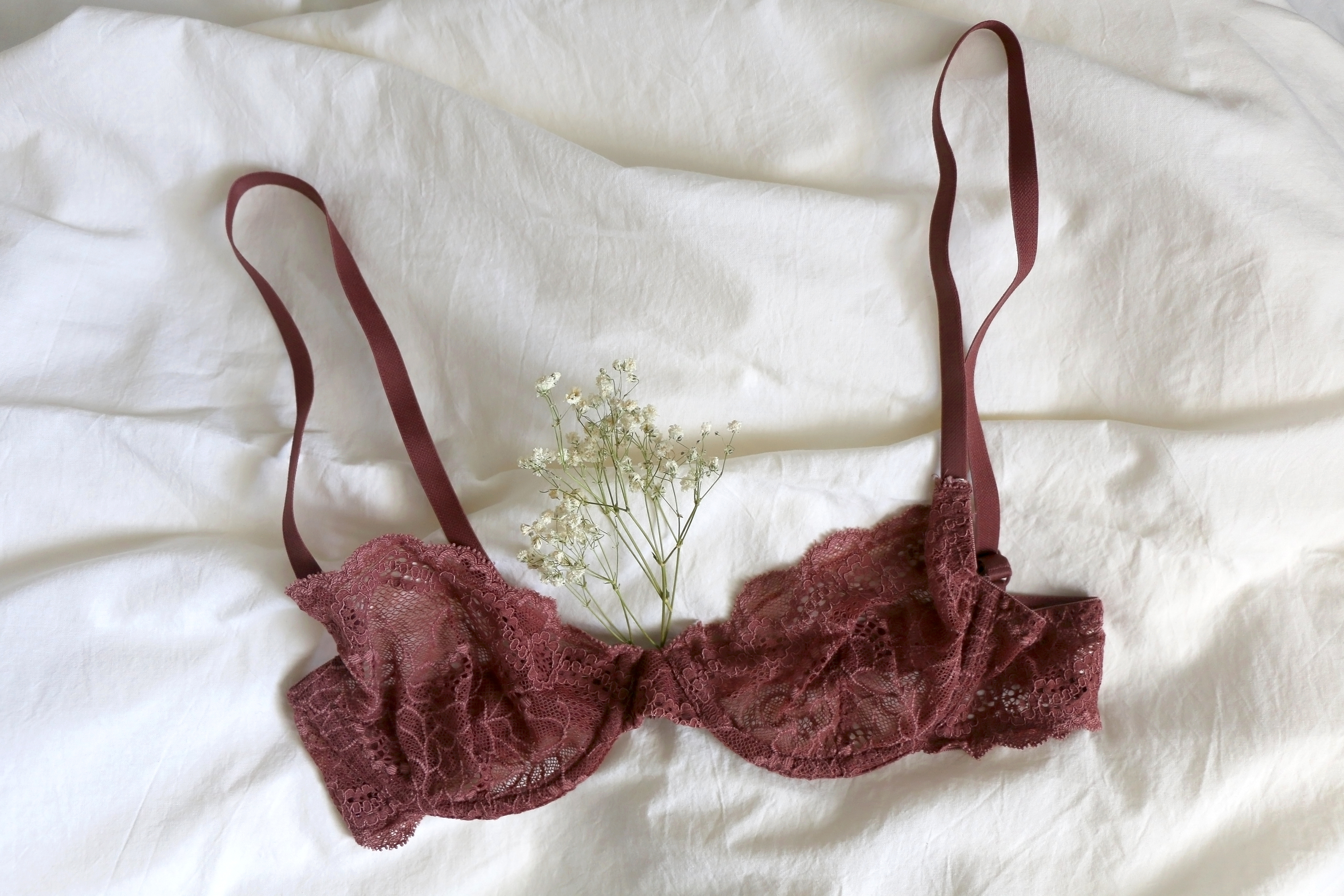 Know Your Bust Shape
Your breast shape can make or break your decision as to what bralette to buy. Many women may have no idea that the shape of their breasts matters when shopping for bras.
To serve as a guide, here are some of the common bust shapes and bra recommendations for each:
Bell shape: Here, the breasts are fuller at the bottom part and slimmer on top. The best choice for this bust shape is an underwired bra, which will give you support at the bottom. Usually, bralettes come with no wires. But lucky for you, there are still some styles with underwire, which are perfect if you have a bell-shaped bust.
Round: In this shape, the breasts are equally full from top to bottom. The best option for this shape would be bralettes with lesser coverage, like balconette or plunge designs.
Asymmetric: This is a typical shape for women, where one breast is bigger than the other. A T-shirt bralette can lessen the look of an asymmetric bust. It could make the difference less noticeable than usual.
These three are just some of the common shapes women have. If you're still having a hard time choosing the bralette that suits you, getting assistance from the store you're buying from will be a great help.
Final Thoughts
Always remember to buy designs you can easily match with your outfits. That way, you'll have unlimited chances of styling a bralette with a top and a pair of shorts or jeans. Also, getting the correct measurement before buying is essential. But not just that—your breast shape should also be considered when selecting the right style of bralette for you.
Finding the perfect bralette can be challenging at first. But as long as you follow these tips, you can avoid all the discomforts associated with wearing the wrong size if you buy the right size according to your bust measurement.